When it comes to B2B lead generation and SaaS growth hacks, LinkedIn is hands down the best channel that you can use. A staggering 61 million on LinkedIn's 500 million members are senior-level influencers, and 40 million are decision-makers in their companies.
So, the chances of finding the right leads on LinkedIn are much higher than any other social network. According to a recent study, LinkedIn is 277% more effective than Facebook and Twitter for lead generation. Not to mention cold emails, which are lagging behind all those channels.
To make LinkedIn even more attractive as a lead generation channel, there are lots of tools that allow you to scale this process, and make it more efficient. We've collected the best LinkedIn growth tools that you can use to make the most out of your LinkedIn marketing and lead generation efforts.
LinkedIn is a great network for generating high-quality leads. And it's even better with the right automation tools. With SalesFlow, you'll be able to automate the entire LinkedIn lead generation process, from sending and withdrawing invites, to sending follow-ups in InMail.
Add to that the fact that SalesFlow is a safe cloud-based prospecting tool and you'll get the ultimate tool for scaling and automating your Linkedin lead generation efforts.
As you've probably guessed, the LinkedIn Sales Navigator was developed by the LinkedIn team. This useful tool will help you better manage your LinkedIn marketing efforts, and see the big pictures.
Using LinkedIn Sales navigator, you conduct deep searches and sort your contacts by multiple parameters, which is something you can't do using the traditional LinkedIn search.
You can also see a full list of the leads you need to contact and get real-time sales updates from within the tool. In addition to that, you'll be able to better target your search on LinkedIn, as you can see what type of leads are converting.
Making a better connection with your leads requires knowing more information about them, like their phone numbers. And that's where Lusha can help. This simple tool will help enrich the data you collect from LinkedIn.
Lusha will automatically find other information about your LinkedIn leads, like their phone number, email, and social media accounts.
If you're using LinkedIn for sales, Rapport is one of those growth hacking that you must have. By allowing you to find email addresses from a LinkedIn profile or website right from your email inbox, Rapportive can significantly boost your productivity and your workflow.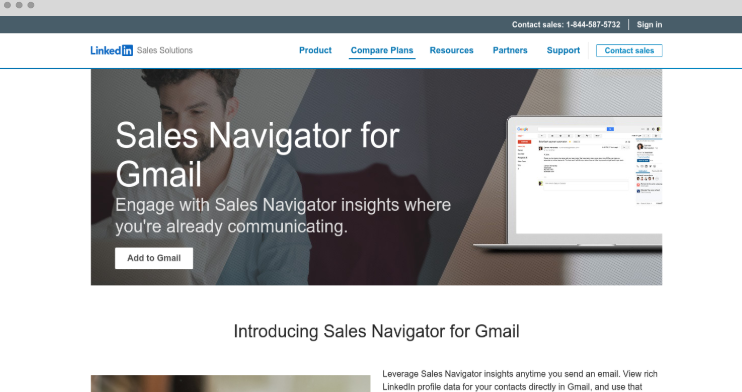 Sharing content regularly on LinkedIn – or any other social network – doesn't mean you have to spend all your time here. With Buffer, you'll be able to streamline your entire content publishing process. And this includes LinkedIn, Facebook, Twitter, and even Instagram.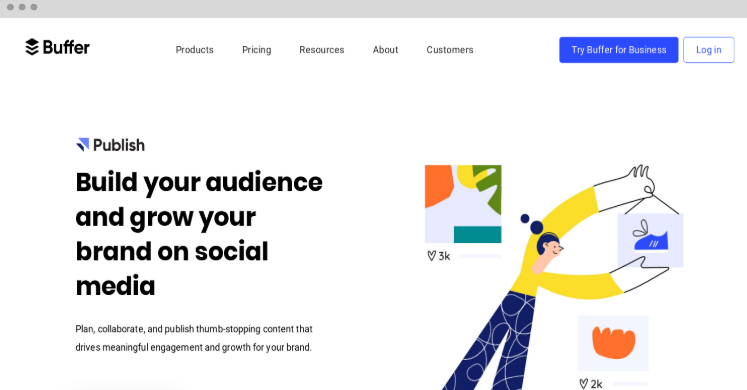 Imagine if you could know the exact personality of each of your leads before even contacting them. That's what Crystal allows you to do. By analyzing millions of data points, Crystal gives you a character profile for each of your leads, which allows you to approach them the right way to increase your chances of closing a deal.
In addition to saving your team lots of time and effort, this tool makes it easier to assign the right team member to the right lead.
This is another great tool that's developed by the LinkedIn team. The LinkedIn Pulse app will show you the most trending stories that your colleagues are reading, and send you a notification whenever one of your favorite influencers posts something new.
Staying up-to-date with the latest industry trends allows you to better understand the current trends, and create more relevant content.
They say a picture says a thousand words, and that's true when posting content online. Using the right visuals makes anything you post more appealing. Instead of having to hire a designer or figure out how to use complex photo editing tools yourself, you can just use Canva.
All it takes is a few clicks, and you'll be able to create stunning visuals for all your posts using this free, and intuitive tool.
If you want to build real engagement on LinkedIn, Engagio is simply a must. Instead of guessing which of your content is getting the most engagement, you can see the engagement levels in real-time. This tool allows you to better understand what type of content is more engaging for your audience, and how your content is performing compared to your competitors.
Another great growth hacking tool that helps you understand how your content is performing. Using AI, Unmetric does an in-depth analysis of your content and how's it's performing to give you better ideas and help you outperform your competitors.
This tool also helps you with the content ideas that are based on analysis, instead of relying on assumptions, which is a staple of growth hacker marketing that doesn't work.
This tool is the LinkedIn team's solution for helping you increase your visibility on their network. To help you share more relevant articles on your profile – that your audience is most likely to engage with, LinkedIn Elevate uses an algorithm to suggest posts for you to share.
Since sharing content makes your profile 6x more likely to get viewed, you should consider using this tool as it makes the whole process easier. You can also get engagement metrics with this growth hacker marketing tool, which is available as a mobile and desktop app.
If you want to maximize your LinkedIn posts' views and liked, lempod can help. By sharing your content with other lempod users, you'll get more views, likes and comments for every post you share. You can pick the pods you want to share your content with, and even choose comments that people can leave on your posts.
Conclusion
If you want to make the most out of your LinkedIn lead generation efforts, you must use the right growth hacking tools. By doing so, you'll be able to streamline the process and make the most out of your time, so you can focus on things that truly need your attention.
While all the other tools we've mentioned above are great, the best ones depend on your process. Take some time to evaluate how you generate leads on LinkedIn and use the right tools to streamline as many steps as possible.