Challenge

Find a way to optimize their LinkedIn campaigns for their clients and book more meetings.
Their methods of reaching out to potential clients were through cold emails and cold calling which is a lengthy process and results were extremely limited.

Solution

Salesflow offered a more complex, structured, and scalable LinkedIn managed service that generated 3-4 times more B2B bookings for their clients. Since Dec 2019 they've been executing their Linkedin managed service. During that time they had run 24 campaigns for a diverse portfolio of companies targeting industries that range from Healthcare, Insurance, Banking, and Online gaming in Europe, Asia, and North America.

Results

They've noticed that in order to book 1 call they would need to connect with 47 people of which 15 would accept the connection invite and 5 would respond. Hence, to book 25 calls they needed to invite 1177 people, connect with 373, and receive responses from 138.



As an average for a managed service based on conversations with their best performing client and what they consider a successful campaign, they've set the following criteria: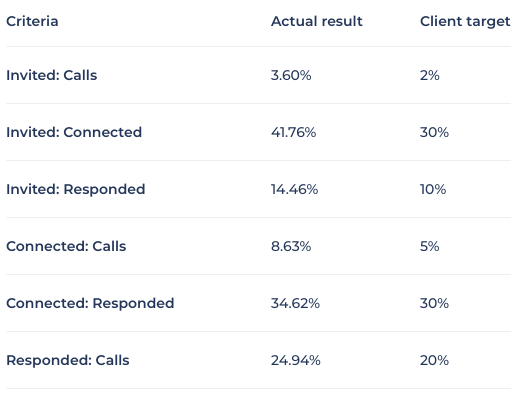 About Out2bound

Out2bound is an on-demand B2B sales development team for technology companies in Europe and North America. Their primary focus is to drive higher numbers of qualified opportunities at the top of the funnel for their clients.