Social selling on LinkedIn is one of the best ways to nurture leads and move them down your lead funnel. But how do you know if your social selling efforts are successful? Your LinkedIn social selling index gives you all the data to understand your current influence levels. Here's a 2023 guide to understanding and improving your LinkedIn SSI.
What is the LinkedIn social selling index?
Your LinkedIn SSI is a tool you can use to track your account's influence and reach to get a sense of your social selling success. LinkedIn sales navigator users can see their SSI scores right from the Sales Nav dashboard, but other users can only access an overview from LinkedIn's own website.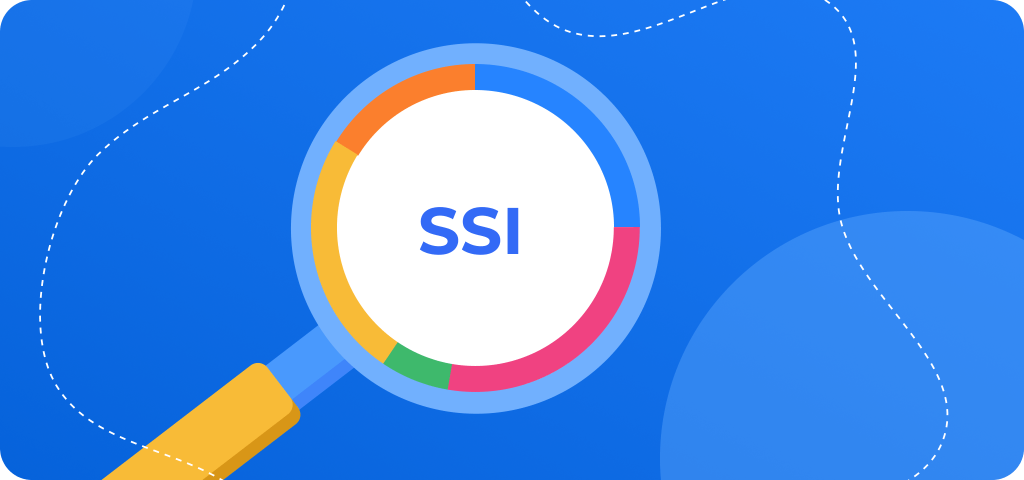 Why does the social selling index on LinkedIn matter?
Your LinkedIn SSI is a vital way to keep track of your qualitative lead nurturing and marketing efforts. Unlike cold outreach, which is easy to track with the right LinkedIn automation tool, it's much harder to quantify the results of your content marketing strategy and understand how well you've built your personal brand on LinkedIn. Luckily, the SSI tool from LinkedIn does this for you. It gives you real time updates on the social pull of your profile, so you can estimate the impact of your efforts to date.
It also gives you pointers and recommendations for ways to improve your reach and influence and build your personal brand. As such, the LinkedIn SSI is a vital KPI you should use to measure your sales success, just as you would track the number of cold calls or discovery meetings booked.
How do I find my social selling index on LinkedIn?
To get your SSI, head to this link and click 'get your score'. You'll get a results panel that looks like this: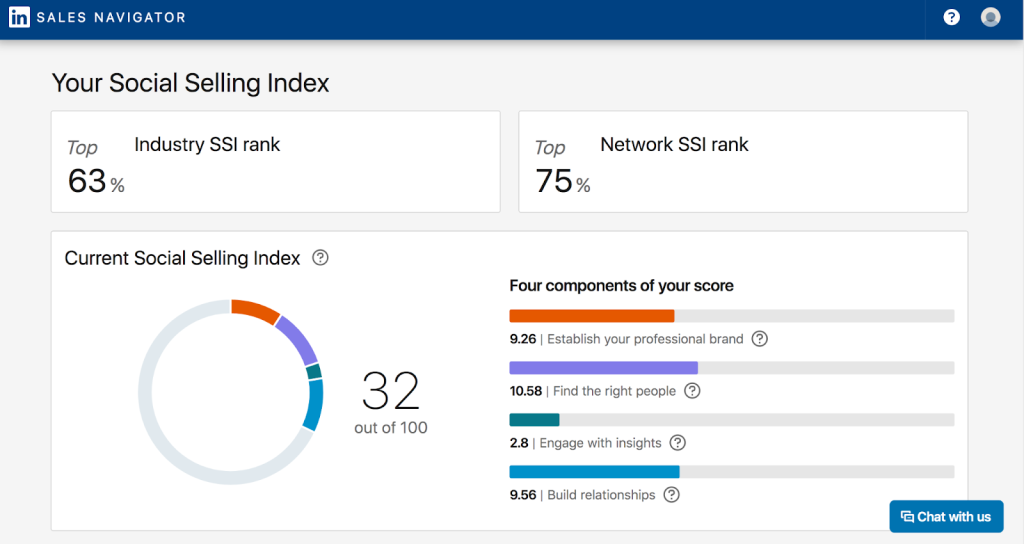 Along with a breakdown of your results compared to others in your industry and network.

If you're a Sales Navigator user, you'll see an overview of your current SSI rankings each time you use the Sales Navigator dashboard – an excellent motivator to learn more about and improve your score!
Interpreting your SSI
The LinkedIn SSI is made up of four elements:
How well you've established your professional brand
How good you are at finding the right people
How often you're engaging with insights
How well you're building relationships
But what do each of these mean? And how do you improve your score for each area? 
Professional brand
Your professional brand is influenced by the completeness of your LinkedIn profile, and how often you post updates or thought leadership to your network via the platform. 
Finding the right people
Your score for finding the right people is determined by how efficiently you use features such as Sales Navigator search to find prospects. If you have a well-defined ICP and clear target personas or titles, and regularly use LinkedIn to find your prospect lead lists, you'll likely end up with a high score for this component. 
Engagement with insights
Whether you engage with insights is determined by how often you share and comment on updates in your industry or network. LinkedIn measures how many people are liking, commenting, and engaging with your posts or replies to assess your content's value. Those with the highest insight engagement scores are people who take the time to regularly invest in their networks by commenting and reacting to the posts of others – who are more likely to do the same to their posts in return.
Relationship building
Finally, your relationship building figure is an indicator of your network strength. How good are you at creating connections with those around you on the platform? And what quality are these relationships? This component can give you a good idea. 
The LinkedIn SSI is scored out of 100. Linkedin reports that top sellers with higher SSIs are 51% more likely to hit quota. They also create an average of 45% more opportunities than lower social sellers. So, with that in mind, here are 5 ways to improve your LinkedIn social selling index.
5 ways to improve your social selling index in 2023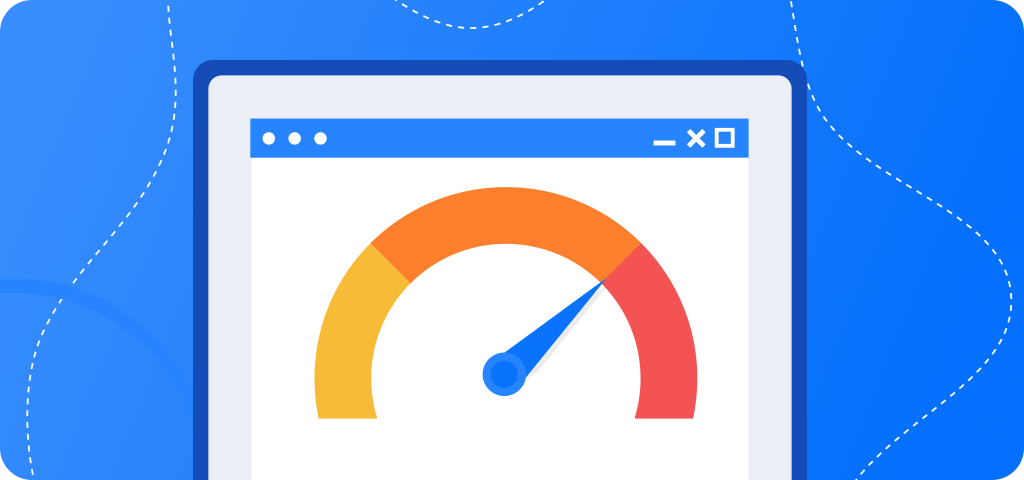 1. Get Sales Navigator
If you're not yet using LinkedIn's prospecting tool, it's time to make the jump. The platform reports those using Sales Navigator can increase their SSI by 20% in just 6 months. And it's easy to see why: Sales Nav gives you immediate access to powerful search filters not available on a standard LinkedIn account, enabling you to find the right leads in no time. Plus, its sidebar with activity updates for saved leads and accounts means you're never stuck for ideas to engage with your network.
2. Optimize your LinkedIn profile
An easy way to improve your social selling index is to check you've completed all the extra areas of your LinkedIn profile. This will directly influence the score for your professional brand component. Of course, you need a compelling header, summary, and profile picture. But beyond that, have you done everything in your power to increase your influence and establish your expertise?
Along with the basics, make sure you add your location, industry, and skills. This helps others find you for networking purposes and gives prospects and recruiters a quick snapshot of your areas of expertise. All are vital for a robust social selling presence.
You can assess your progress using LinkedIn's profile level meter. This gives you a quick visual breakdown of your profile's current strength: whether beginner, intermediate, or all-star. To quickly improve your LinkedIn presence, download our guide to optimizing your LinkedIn profile.

3. Define your ICP
Since a quarter of your LinkedIn SSI score comes from finding the right people, you need to be crystal clear about which personas and job titles you're targeting before scaling your use of the platform.
If your marketing department already has an ICP in place, check if it needs updating with any extra information based on changes to strategy or insights from sales calls or recent deals. If your ICP is up to date, work with your sales manager to develop a strategic plan for your list of target accounts using LinkedIn Sales Navigator's search filters. They can give you some clever ways to target ideal leads more precisely and increase your conversion rate.
For example, if you're selling a service that helps small business owners get more value out of their marketing efforts, you might decide to focus on companies that haven't posted in the last 90 days, as this suggests their current systems aren't working. Since they have a clear pain point you can solve, these prospects are more likely to respond positively to your outreach attempts. And your ability to quickly find the right, responsive leads will improve your social selling index on LinkedIn.
4. Work on your LinkedIn content marketing strategy
The strength of your Linkedin professional brand relies on your ability to consistently post valuable thought leadership and engage with insights and update posts from others. And the ability to do both relies on a strong LinkedIn content marketing strategy.
At this point, it pays to get strategic. Don't just start scattergun posting your insights without a content plan. These can be very simple: you just need a list of the types of posts you want to create, their frequency, the topics you'll talk about, and the dates you'll upload the content. With this in place, you can write a post here and there when you get a spare 20 minutes, and create a backlog of consistent, valuable insights that will improve your professional brand and ensure your contacts get value out of following you.
Check out our complete guide to content marketing on LinkedIn.
5. Use automation tools and AI
To effectively build relationships and get other LinkedIn users to engage with your social posts, you need ways to streamline your content production, posting, and outreach. AI and automation tools can help take care of your social selling when you're busy with other tasks.
Using a tool like Taplio, you can build your LinkedIn SSI in just 10 minutes a day. The AI tool generates ideas for replies to other LinkedIn users' posts that you can use to strengthen existing relationships and increase your activity on the platform. Salesflow's automated LinkedIn cadences with up to 2,000 follow-ups mean you can make sure you never forget to send a message after connecting with a prospect again. You can plan and tweak your content for each individual in each campaign – meaning more consistent, valuable content and greater results. How well you engage with leads in your network will make a direct impact on your LinkedIn SSI.
Reach more prospects and improve your social selling score
With the 5 tips above, you'll soon be on your way to effective social selling on LinkedIn. If you want to save even more time on your social selling, check out our plug-and-play ebook of ChatGPT prompts for LinkedIn outreach.
Ready to get going with LinkedIn automation software that saves 4-6 minutes for every lead? Get started with your free Salesflow trial today: