With over 900 million business professionals and 65 million decision makers active on the platform, LinkedIn is a goldmine for B2B prospecting. And if you're like most sales professionals, you already use LinkedIn Sales Navigator to find and connect with potential customers. But once you've identified a promising list of prospects, how do you export your leads from Sales Navigator to a spreadsheet or CRM?
Using Salesflow, the process is simple. In a hurry? Jump to the step-by-step tutorial.
Why export your Sales Navigator list to Excel?
Exporting leads from LinkedIn Sales Navigator to a spreadsheet is essential to:
Keep track of who you're prospecting to,
Maintain up-to-date lead lists,
Use the data in other campaigns,
Save time and speed up your prospecting.
LinkedIn is the best place to search for leads as it has the most accurate, up to date information about prospects. Unfortunately, its interface is unwieldy and it's impossible to manually copy and paste data from the platform at scale.
Luckily, you don't have to. Salesflow's automation software gives you several ways to export your LinkedIn Sales Navigator leads with little or no manual effort.
Exporting leads From LinkedIn to Excel
Exporting your LinkedIn Sales Navigator leads into a spreadsheet is a great way to keep track of your prospects and customers. You can use the spreadsheet to sort and filter your leads, and you can also use it to track your interactions with each lead.
However, you can't export leads from Sales Navigator using LinkedIn alone. To avoid a copy and pasting nightmare, you need additional software. Salesflow's dedicated LinkedIn automation tool lets you flexibly export leads from Sales Navigator in two ways:
Use Excel or a CSV to export your leads to a spreadsheet
Use Zapier or Native CRM integrations to export your leads to Hubspot, Salesforce, or Pipedrive.
Plus, you get access to automation software that lets you run outreach campaigns in the background and save 4-6 minutes per lead.
What Is LinkedIn Sales Navigator?
LinkedIn Sales Navigator is a search tool offered by LinkedIn that salespeople can use to find potential customers. It also helps you keep track of your prospects and make sure you are reaching out to the right people.
It has some powerful filters: you can search by job title, location, or industry, or use advanced search filters to specify company growth or headcount. If you're really clever about it, you can start using Boolean logic to find great fit leads with hardly any effort. This can help you connect with people who are interested in your products or services.
The tool helps you find the most relevant and up to date contacts, so you always have the best chance of converting prospects. You can see when prospects change jobs or get promoted; filter by the groups they're active within; and see who they're connected to. Sales Navigator is a vital tool in any seller's toolbox.
There are three versions of Sales Navigator: Core, Advanced, and Advanced Plus. Each level has different features and capabilities, so it's important to choose the right one for your needs.
Different User Plans
Sales Navigator Core is the basic version of the tool. It includes features like contact and company search, lead recommendations, and InMail credits. If you're just starting out with Sales Navigator, this is a good option to get familiar with the tool.
Sales Navigator Advanced offers features such as the ability to share lead information across teams and add smart links to your outreach to track responses. You can also create custom lists of potential buyers, set up alerts for new leads that fit specific criteria, and view detailed information about each lead.
Sales Navigator Advanced Plus is the most complete package. It includes all the features of Advanced, plus access to advanced CRM integrations for Salesforce and Microsoft Dynamics 365 Sales. This makes it a good choice for users looking to sync contact information across their tech stack.
No matter which tier you choose, Sales Navigator can help you maximize your time on LinkedIn and close more deals. However, although LinkedIn Sales Navigator is great, it's important to find a way to sync your customer data and activity with other systems. And the best way to do that is to export your Sales Navigator contacts to a spreadsheet or a CRM.
What is Salesflow?
Salesflow is a LinkedIn automation platform that helps you fast track your lead generation by running multiple automatic outreach campaigns to LinkedIn users.
You can use Salesflow to send automatic connection requests and unlimited follow-up messages to your prospects on LinkedIn. Smart inbox features and an advanced analytics dashboard make it easy to track your campaign progress and improve outreach success.
Once you sync your LinkedIn account with Salesflow, you can access all your Sales Navigator filters from within your account dashboard (as long as you already have a premium LinkedIn Sales Navigator account). Salesflow's LinkedIn automation tool also integrates with a number of popular business applications like Hubspot and Salesforce, making it easy to export contacts from LinkedIn to your CRM or export your lead lists for other purposes.
To create a Salesflow account and begin exporting contacts from LinkedIn today, book a demo with our experts.
How to export leads from LinkedIn Sales Navigator using Salesflow
You will need:
A LinkedIn Sales Navigator account
A Salesflow account
1. Log in to your Salesflow account and select 'Campaigns'.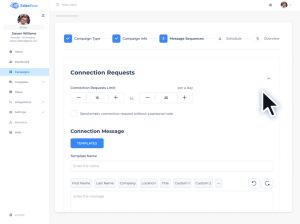 2. Click 'Add New Campaign'.

3. Then, click 'Add Contacts'.

4. Select 'Import Saved Searches' to add a pre-existing Sales Navigator lead list. Or, choose 'Sales Navigator Search' to create a new search and find a new list of contacts. If you're creating a new search, add your Sales Navigator filters to get a list of relevant contacts to export from LinkedIn.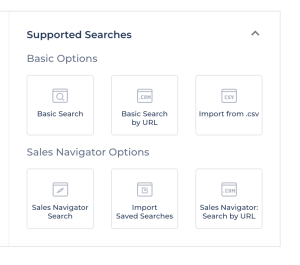 5. Select all relevant contacts, then click 'Export'.

6. Choose whether to export your leads to a spreadsheet or to Excel.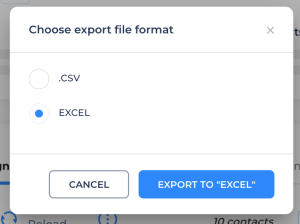 You can also export lists of leads to Excel from any existing or finished campaigns, along with campaign stats and data.
Leveling up how you export lead lists
Now you have an easy way to export leads from Sales Navigator to your other systems. But you might find you soon outgrow working from spreadsheets alone.
Generally, once you're working with more leads, your company is growing, and your outreach is getting more sophisticated, you'll want to start using a CRM. If so, you'll need a way to integrate your CRM with LinkedIn Sales Navigator to export activity updates in realtime.
By syncing your CRM with your LinkedIn account, you can remove the awkward middle step of importing and exporting CSV sheets. And go from exporting leads with just a few clicks to exporting leads automatically with no manual effort.
Integrating Sales Navigator with Salesforce
Salesforce is a powerful CRM tool, but it can only do so much on its own. In order to truly maximize its potential, it needs to be integrated with other software platforms. One such platform is LinkedIn Sales Navigator.
Salesforce can be integrated with LinkedIn so that businesses can automatically import data from LinkedIn into their Salesforce CRM system. This way, you can easily view your LinkedIn connections within Salesforce and vice versa.
You can integrate LinkedIn and Salesforce using LinkedIn's native functionality if you're a Sales Navigator Advanced Plus user. Or, you can use Salesflow's native LinkedIn Salesforce integration to automatically sync activity between your CRM and the platform.
When Salesforce and LinkedIn are integrated, Salesforce will show you information about a prospect, like their contact information and recent activity, when you search for them on Sales Navigator. This lets you quickly identify and reach out to the most promising prospects.
In addition, Salesforce can automatically log interactions with prospects in LinkedIn Sales Navigator, making it easy for you to keep track of conversations.
Salesforce is a great way to connect with your business contacts. LinkedIn is a good way to connect with people you know. When you put them together, you get the best results.
Integrating Sales Navigator with Hubspot
Hubspot is a sales and marketing software that helps businesses attract, engage, and delight customers. It has a native integration with LinkedIn Sales Navigator, but the integration has limited functionality. You can send personalized outreach through Hubspot, including InMails sent from the contact record itself, but you can't sync your outreach activity.
Salesflow's native Hubspot LinkedIn integration gives you the complete functionality you need to export contact information and sync your outreach activities. This integration lets you send personalized outreach to your contacts with just one click of a button.
To export your LinkedIn contacts to a CRM, simply head to your Salesflow account and select 'Integration'.
A Great User Experience
LinkedIn Sales Navigator can be a powerful tool when used correctly. One way to make sure you are using it effectively is by integrating it with your other sales and marketing software. As you can see, there are a variety of ways to export leads from LinkedIn into a spreadsheet or CRM.
Each one can help to make the process easier for yourself or your business and improve your chances of converting more leads into customers.
To get started exporting leads from Sales Navigator today, start your 7-day free trial: