LinkedIn lead generation tools help businesses grow their sales pipeline and increase their number of set meetings. While all rely on LinkedIn automation as their core feature, there are a variety of different types on offer, and the right choice for each business depends on a few factors. To help you find the right service for you, we've pulled together this overview of the benefits of each and where they work best.
Different types of LinkedIn lead generation tools
Self-serve automated LinkedIn lead gen
What they are
These are tools like Salesflow's self-serve offering that improve your LinkedIn lead gen results through automated messages and campaign management. Instead of manually spending 4-6 minutes finding, messaging, and tracking each lead, offloading the work to an automated LinkedIn lead gen tool allows you to message hundreds of leads in the background of your other work.
Who they're useful for
Automated LinkedIn tools work best for Sales teams and small businesses that are looking to effectively scale their outreach and approach hundreds of extra leads a month. They're also great options for Sales leaders that are looking to systematize their lead generation with accurate campaign reports and a 10-20x ROI.
How they work
It's easy to access LinkedIn automation software with a few simple steps. First, sign up for the platform and sync your LinkedIn account. Then, create your first campaigns by uploading leads via LinkedIn Sales Navigator, an ordinary LinkedIn search, or an Excel file. Finally, sit back and watch your meeting requests roll in. You'll be able to run multiple cadences at once, tailored to each subset of leads, for personalized outreach that scales.
Features
Automated LinkedIn tools come with a whole host of features to help your lead generation. In addition to powerful automation workflows to save time and increase efficiency, you get:
Additionally, features like personalization tokens and AI copy generators let you tailor messages to the right audience in a fraction of the usual time, without compromising on outreach volume.
Benefits
Automation solutions eliminate redundant admin while giving sales reps more time to spend on research and personalization. That all adds up to up to 4-8 hours saved per week per rep, which can do wonders for your outreach quality. Plus, systematic campaigns and advanced analytics make it easy to A/B test results and build a sophisticated sales strategy.
Results
Automation tools can increase lead generation revenue by 48%, save an average of 4-6 minutes per lead, and lead to average LinkedIn InMail open rates of 31%. To discover the potential for your business, try the Salesflow ROI calculator.
LinkedIn lead gen with account management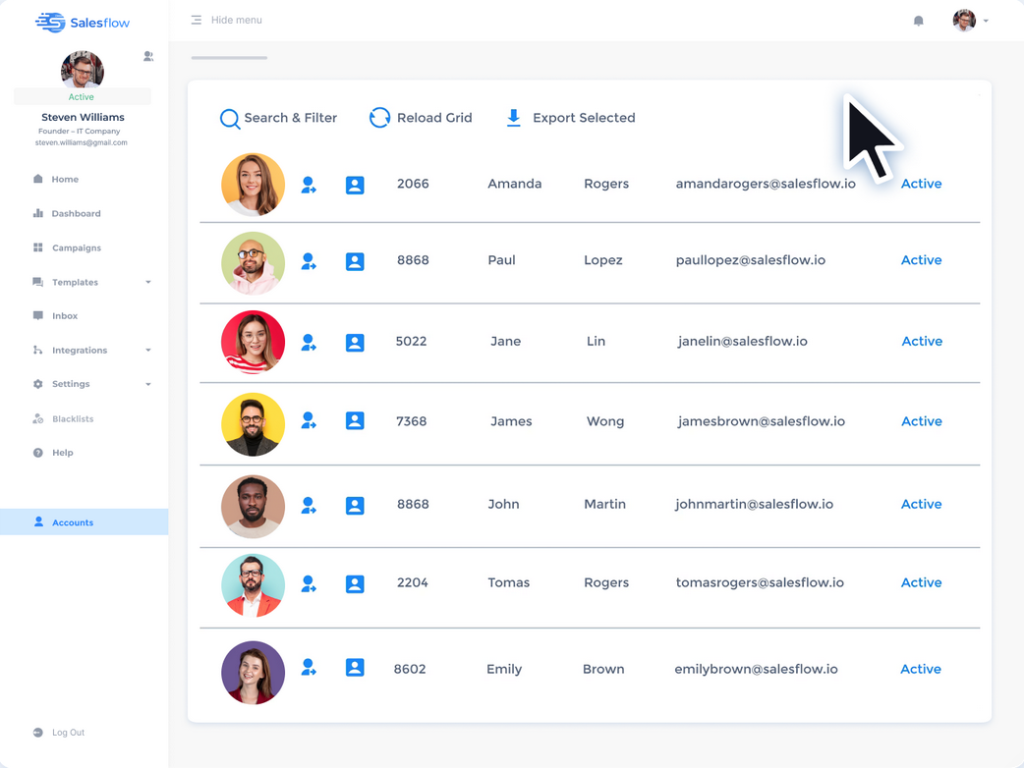 What it is
Managed LinkedIn services come with access to all the standard LinkedIn lead gen tools plus extra help with user seats, team onboarding, and ongoing support needs.
Who it's useful for
At Salesflow, we recommend this service for larger accounts running multiple high-level cadences. It's particularly helpful for users that want the safety and security of a dedicated support point of contact. Direct expert access also helps companies with efficient onboarding and effective implementation.
How it works
Generally, if you're looking for a LinkedIn lead gen service with account management, you'll start with a demo of the platform. After discussing account needs, including the number of seats required, you'll be advised if a managed lead gen service is right for you. If it is, you'll be assigned a dedicated customer success rep to help get you up and running with the tool. This LinkedIn expert will be your point of contact throughout your time using the service.
Features
Managed services come with all of the features of self-serve LinkedIn lead gen tools, plus:
Dedicated Customer Success for ongoing support and account management.
Help with onboarding and implementation to ensure you get the most out of the tool.
Benefits
Users of this type of tool get quick access to support in the case of any LinkedIn updates. This helps to ensure account security and results. They also learn all the best ways to generate leads on LinkedIn through onboarding support from LinkedIn experts. This includes detailed guidance on InMail, Groups and Events, and Existing network campaigns. For onboarding larger sales teams that might need extra support and training, it's an invaluable option.
Check out the full Tech Pro Marketing case study
White Label LinkedIn lead gen tools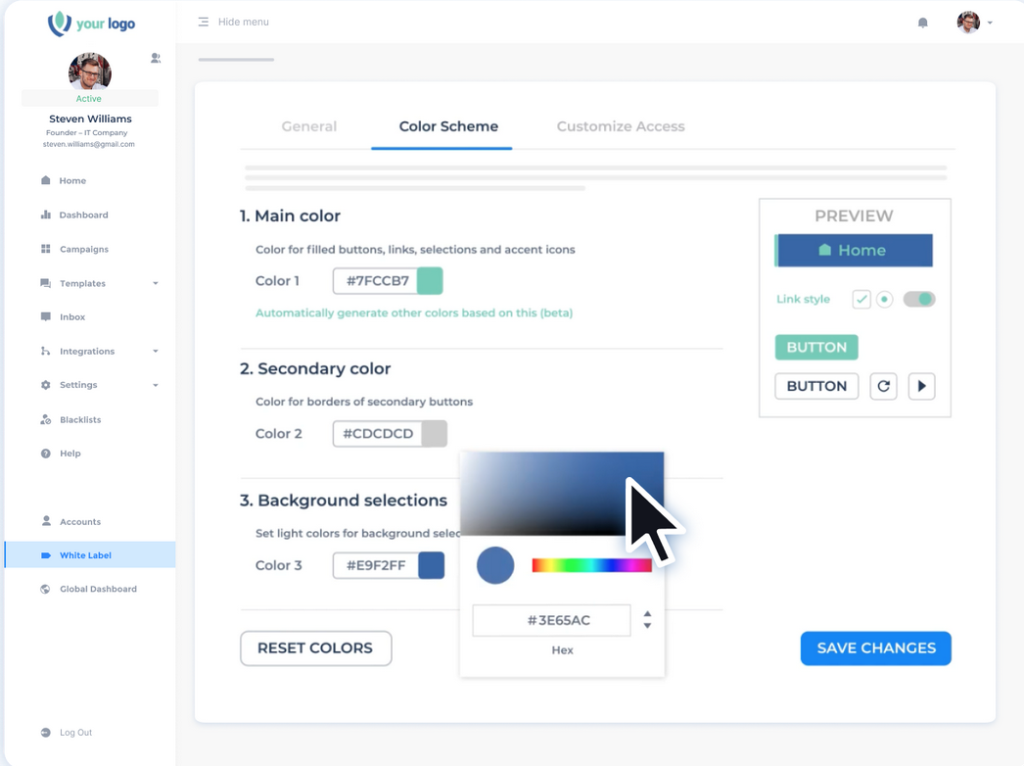 What they are
White-label lead gen tools enable agency clients to include their own company branding, title, and URL, so their customers aren't confused by being directed to a third-party service. By partnering with a third-party lead generation service like Salesflow, agencies can access additional functionality not available in-house. That can make all the difference to lead gen margins and client retention. White-label products are necessary for improved client security and the only option for lead gen agencies looking to grow or maintain brand professionality. They're vital to providing a first-class client experience with smooth onboarding, custom reporting, and client-specific dashboards.
Who they're useful for
White-label services suit lead gen agencies who want to increase professionalism, improve client experience, and gain better results.
How they work
Alongside all the features of the standard lead gen service, agencies have the option to add their own branding to a white-label dashboard. They can customize the logo, browser tab title, and color palette to match their brand and increase visual consistency.
White-label solutions also come with custom permissions for each agency client. Each account receives access to a private inbox and private lead gen reports to improve client security. And agency owners can manage all accounts from the global admin dashboard.
Features
Features will vary according to the specific solution picked, but the best options will cover all of the following. These features are all available in the Salesflow agency solution:
A global admin dashboard for overseeing all agency clients.
Custom branding where you can change the color palette, title, and logo.
A sessions browser for safe LinkedIn prospecting without risking client account blocks.
Advanced reporting for each client to demonstrate results.
The option to link clients' own Intercom support.
A custom lead management inbox to make following up on responses easy.
Benefits
White-label lead gen tools give agencies access to third-party LinkedIn solutions without impacting client experience or security. They're great for increasing professionalism, promoting your brand, and scaling securely. Plus, the easy access to tailored reporting lets clients align with your output and see for themselves the difference your agency is producing. This can help massively with client retention while saving hours of report-creating at the same time.
Read our full case study with the agency Inbox Attack
Done-For-You LinkedIn Lead Generation services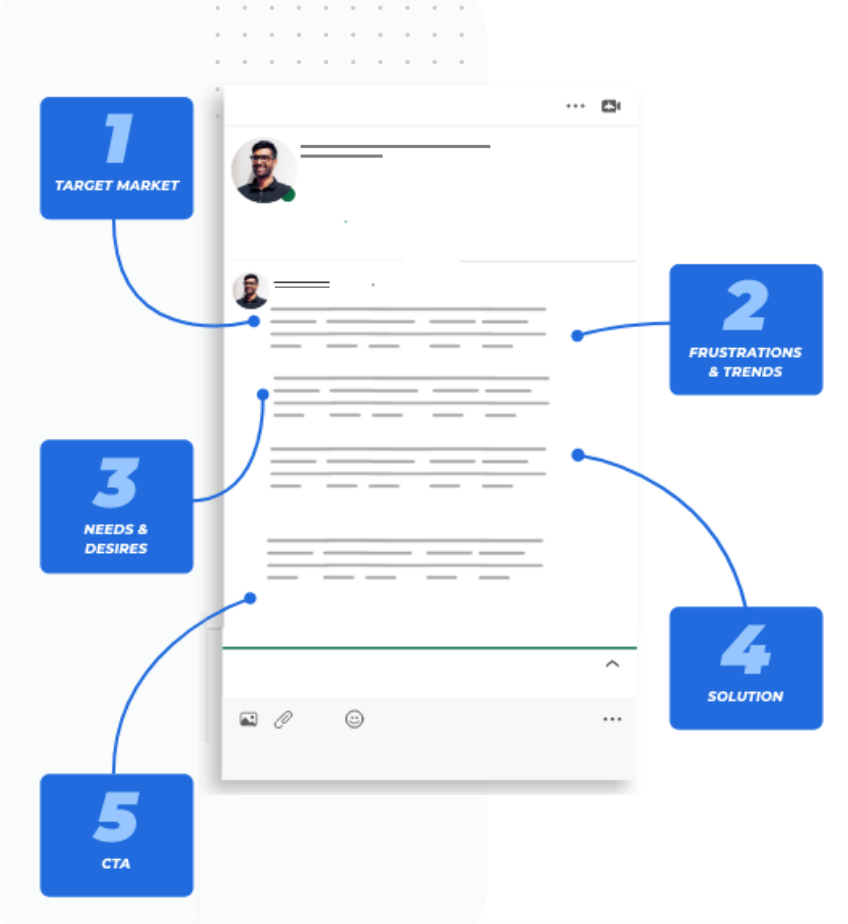 What they are
Done for You tools give you LinkedIn lead gen as a service. Rather than just giving you the toolbox to improve your manual outreach, they take all the effort and resource requirements away by doing the whole process for you.
Who it's useful for
Done for You (DFY) services are well-suited to bigger organizations that want to run consistent campaigns and free up their in-house sales resources. They're a good option for those without a strong internal sales resource or strategy. They're also great for organizations looking to maximize saved time while accessing consistent results. Since DFY campaigns are run by experts, they're the right choice for companies looking for best-in-class outcomes they couldn't otherwise achieve.
How it works
With a simple initial consultation, DFY services will take a history of your company, your messaging, your ideal target market, and what CTA you're hoping to achieve. Then, they'll couple this knowledge with their expertise in running LinkedIn lead gen campaigns to come up with an outreach strategy. Typically, this will include a couple of different campaign types to a set number of targets a month. They'll create the sample messaging and run it by you for sign-off. Once ready, they'll get going generating leads without you having to lift a finger.
DFY services work to agreed targets and give regular updates and reports on progress. Your pipeline takes care of itself: all you have to do is follow up with the steady stream of incoming prospects.
Features to look for in a DFY service
The best done-for-you services come with several additional features on top of regular lead gen tools for LinkedIn. These include:
A dedicated campaign manager to oversee outreach, tweak approach, and guarantee results.
A strategy session as part of onboarding. Benefit from expert advice on best practices, including what outreach cadences are likely to lead to success for your intended audience. Learn tips and tricks to improve the effectiveness of the process – such as joining relevant groups for LinkedIn shared groups campaigns.
Access to an automation platform to sync your account, so the DFY team can prospect on your behalf. With features like Salesflow's Sessions Browser, this happens without the risk of an account restriction.
Campaign copywriting following best practices and focusing on your buyer persona's pain points
Bi-weekly reporting on campaign stats and conversion rates. Plus A/B testing so you benefit from greater results over time.
Ongoing support via a customer success manager and priority slack channel for larger agency customers.
Benefits of DFY
Done-for-you services naturally save you even more time than other LinkedIn lead gen options. Since there's no need to learn the ins and outs yourself, you can benefit from consistent LinkedIn lead generation without in-house sales resources.
For users looking to improve their LinkedIn knowledge over time, the access to industry experts is also a great way to learn more about LinkedIn best practices to enable future results.
Results
Using Salesflow, customers can expect to:
Go live within 2 weeks.
Offload campaigns equivalent to one full-time in-house team member.
Receive an average 30-50% acceptance rate and a 10-15% positive reply rate.
Speak to the Salesflow DFY team about your lead gen needs today.
Find the right lead gen package for your business
Whether you're a sales leader looking for the right service for your BDR department, an agency owner with a professional reputation to maintain, or a time-pressed executive looking for a completely managed service, Salesflow has the right service for your lead generation needs.
Speak to a Salesflow consultant about the right package for you. On a quick demo call, we'll cover your business goals, the services we offer, and make recommendations for your automation requirements.
Alternatively, check out a free trial of our self-service offering: