Successful social selling requires a well-optimized social profile. And that's especially true on LinkedIn. When you approach a prospect on this professional network, your profile is the driving force behind the impression they will get about you.
Optimizing your LinkedIn profile for prospects – instead of recruiters – could be the difference between success and failure in LinkedIn social selling. And that's why we've created this guide: to help you understand what makes a LinkedIn profile well-optimized for social selling, and how to do the same for yours.
Before we take a look at the best profiles on LinkedIn, we'll explain what makes different sections of a LinkedIn profile great. We'll also give you some LinkedIn profile tips that'll help you take yours to the next level. Let's get started!
Headline
The headline is the first thing a prospect will see on your profile. Instead of just putting your job title here, you can craft the headline to offer a mini value proposition. Try to see things from your prospects' perspective. Thing about what could be an enticing value proposition for your prospects. Don't waste that valuable first impression!

Picture
As you may know, profiles with a professional-looking picture elicit a 40% InMail response rate. A professional-looking picture does not necessarily mean a stiff one. Instead, find a picture that shows a buyer you can be trustworthy in doing business with. It makes sense that people are more comfortable interacting with professionals who look professional, so give that picture the attention it deserves.

Contact Info
You want to make contacting you as easy for prospects as possible. If the way that prospects can get in touch with you isn't clear, they just won't. You can list some of your personal information such as: Email address, phone number, blog/or company website.

LinkedIn URL
Custom LinkedIn URLs are way easier to remember than non-custom alternative, and it makes searching for your profile again easier. For easy searching, linking and printing in business cards, you can customize your URL to: www.linkedin.com/in/yourname. If you have quite a common name, you can always insert your middle name or a number.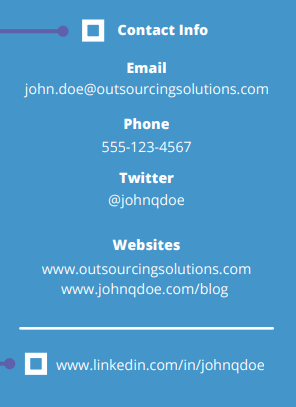 Connections
Nothing makes a LinkedIn profile look more credible and trustworthy than lots of high-quality connections. When people find that you're connected with similar-minded people – some of which they might even know, they're much more likely to get back to you. Some might hesitate to send invites out to someone they've never met, but that should not be the case as long as you make sure to personalize the invitation with a reason you would like to connect and build your network. That reason should be also relevant to the people you want to connect with.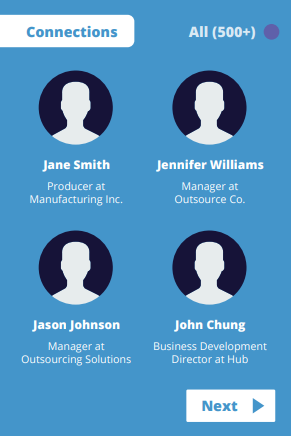 Summary
Great summaries are something that all the best profiles on LinkedIn have in common. If you want your LinkedIn summary to be effective, you should think of it as an extension of your headline. In this summary, you will give your prospect more reasons to be interested in connecting with you.
The summary should be articulated in three short paragraphs that consist of three to four sentences. The first paragraph should emphasize the purpose from your headline and you can also include keywords that buyers might search.
In the second paragraph, you can give insights briefly on the different projects you're undertaking in the present, companies you've worked with in the past, and the results you've achieved. This paragraph should be all about your mission statement in your header and elaborating on how you will achieve it.
While the third paragraph should be all about making a point for business inquires.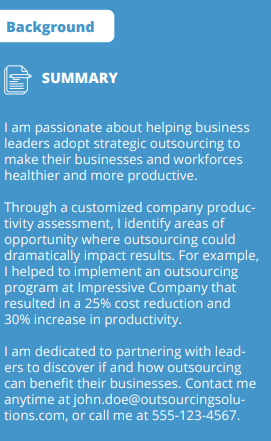 Content
The trick with content is to post eye-catching visuals up to four pieces in your summary. This will be very helpful for the buyer.

Experience
Just like in every other section of a LinkedIn profile that's optimized for social selling, you should list experiences in a way that'll appeal to your prospects. The best way to do this is to list your most appealing duties and responsibilities as bullet points. You can mention your quota achievement as well as the tactics and different methods used to achieve these results.
This way, people can get the message you're trying to get across without having to read your profile word-by-word.

Honors and Awards
You can list here a brief description of work-related awards or honourable mentions.

Publications
You can include in this section articles or blog posts from third-party sites.

Education
This part is not just about your formal degrees. You can also include online courses you've undertaken in the past, current ones or different certifications.

Groups
The best way to catch the eye of a buyer is to participate in similar groups that they are members of or have shown an interest in.

Recommendations
This part is also crucial however, this is the part where you cannot write your own recommendations. You can always ask for recommendations from your boss or people you have worked for in the past. Getting a perfect review from a client is even better. This will ensure your credibility and will serve as a future reference.
Now that you know what makes a LinkedIn profile well-optimized for social selling, it's time to look at some of the best profiles on LinkedIn that we could find.

Examples:
The first thing you will notice about Anthony's profile is how well-formatted and concise is his summary. All of the information, skills and recommendations are well-organized in a way that makes the profile super-easy to scan.
Just by looking at John's professional profile picture and his well-chosen cover image, you instantly get the impression that he's an influential figure in his industry. Another thing that's worth mentioning about this profile it its LinkedIn URL. Even though John has a common name, he found a smart way to create a memorable and easy-to- find custom URL.
Another great LinkedIn that ticks all the boxes. In about section, Tim does something very smart to establish credibility, which is mentioning the fact that he was featured in well-respected third party publications.
Asides from the well-formatted profile, Melissa manages to keep all her supporting information and recommendation relevant to what she does. After years in the market, supporting info can start to get irrelevant, and that's why you should review them from time to time.
What we like most about Aliza's LinkedIn profile is that she strikes the perfect balance between being professional and friendly. By talking a little bit about her hobbies, Aliza gives her profile that human touch that makes it more appealing. The more appealing and professional you seem, the more likely prospects will reply to your InMail.

Remember what we said earlier about your profile's headline, and how it should not be just more than your job title? According to her headline, Katie is the happiest person in real estate. Now, that's something that's both memorable and sparks interest.
Ilya's profile is outstanding for the way its formatted, and the way it uses emojis. In addition to being creative, using emojis this way makes the profile easier to scan. This is also in line with Ilya's brand as a growth marketer and community builder.

Conclusion
The best profiles on LinkedIn are always clear, concise, and have a specific purpose. When you start working on your LinkedIn profile, you create everything with your prospects in mind. Everything from the headline to the recommendations should be written/chosen with his intent.