Salesforce is a powerful CRM, but that doesn't mean it's the best tool for lead generation. Instead, you'll get the best results from your lead generation process by integrating the CRM with platforms specifically designed for networking, such as LinkedIn.
Luckily, Salesforce excels with its integrations, and it's easy to add the prospecting tools you need to the platform. In this guide, we'll walk you through your options and show you an easy way to integrate Salesforce with LinkedIn for prospecting success.
Why export activity from LinkedIn to Salesforce?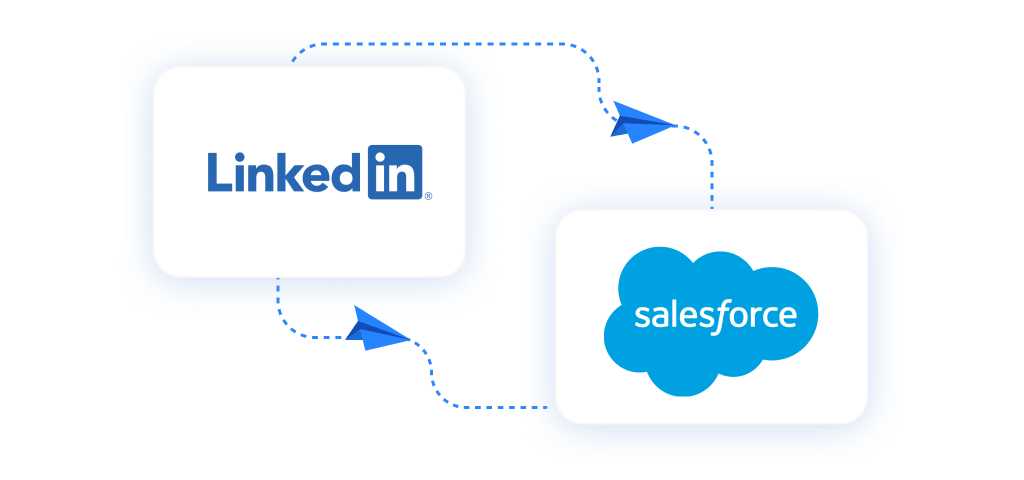 Yes, Salesforce is a great CRM, but it works best specifically for that – managing customer relationships. When creating and progressing deals or assessing the health of ongoing partnerships, Salesforce is the gold standard. For outbound prospecting, you're better off using other tools and platforms.
With over 930 million members – over 65 million of them business decision-makers – LinkedIn is the best social platform for finding new prospects and connecting with potential leads. The networking site offers easy access to key stakeholders and accounts. Users are more responsive on the platform than via other channels: more than 50% of prospects open LinkedIn InMails, and the response rates are 3x higher for InMails compared to regular emails. Using LinkedIn as a prospecting tool can get results where cold calling and emailing fall short.
However, to avoid information silos and track and improve prospecting, you also need a clear record of all your outreach activities – ideally in one central source of truth, such as your CRM. Equally, you don't want your relationship to peter out after your LinkedIn outreach. Once you've connected with a prospect, you need to track follow-ups and deal progression for a full overview of your pipeline and go to market strategy.
So, how do you combine the relationship management functionality of Salesforce with the access LinkedIn offers to key stakeholders and prospects?
The simplest way is by connecting Salesforce to LinkedIn. And, by using LinkedIn automation software to do so, you get the added benefit of bespoke prospecting tools and sophisticated outreach cadences that can double your set meeting rates and save 4-6 hours a week.
How to connect LinkedIn to Salesforce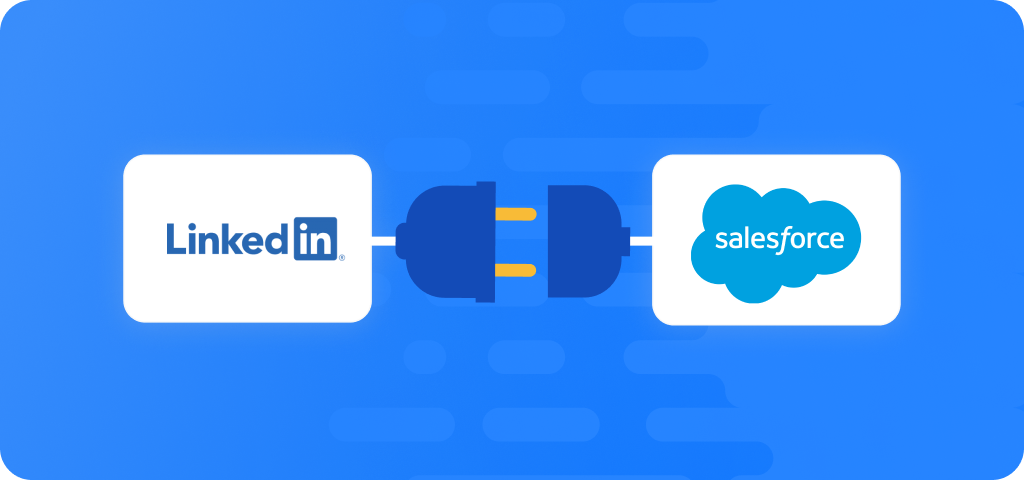 There are two simple ways to connect LinkedIn to Salesforce. The first is using Salesforce's own Sales Navigator integration. For this method, you'll need a Sales Navigator Advanced Plus subscription. You'll also need a Professional, Enterprise, Unlimited, Developer, or Performance edition of Salesforce. This connection method will allow you to view the LinkedIn profiles of leads from within your CRM and log InMail messages and notes. However, the native integration won't record activities in granular detail. So you won't know when connection requests are accepted or withdrawn.
If you don't have a Sales Navigator Advanced Plus subscription, or you want to connect your CRM to LinkedIn while also gaining access to sophisticated automation that scales, you can use our native Salesforce to Linkedin integration to export your leads to Salesforce. The process is simple: sign up for a Salesflow account; sync your LinkedIn account; then set up a native integration and watch activity updates appear directly in your CRM.
5 ways to save time with Salesflow's LinkedIn Salesforce Integration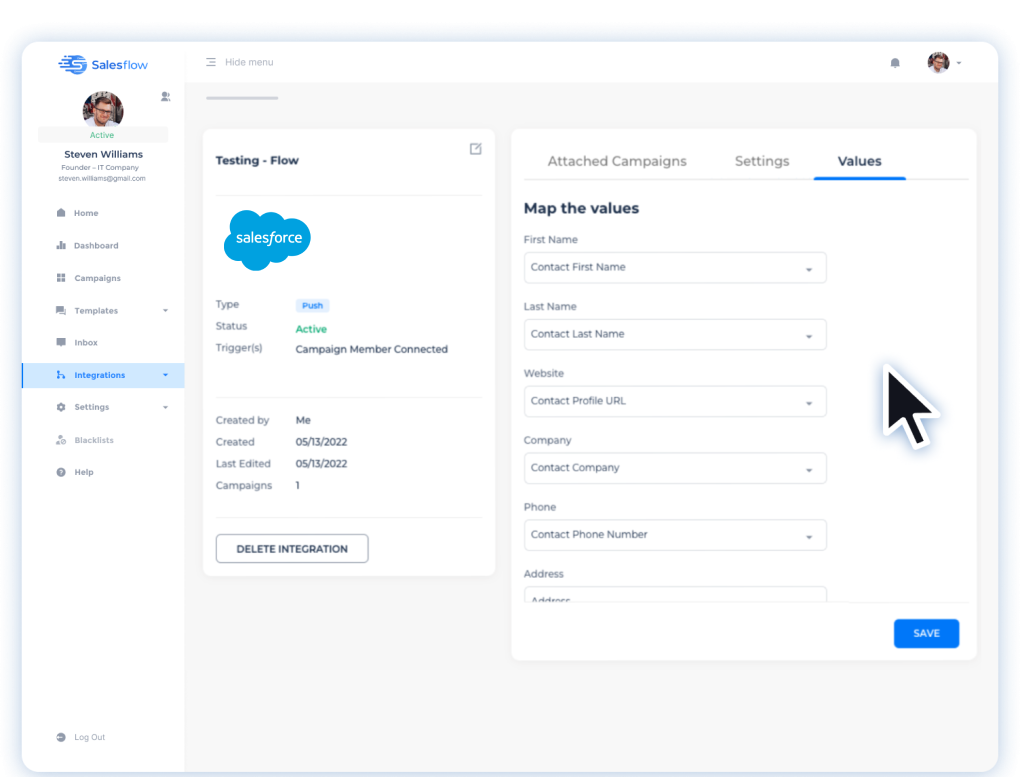 Not convinced you need a Salesforce LinkedIn integration? Here are just 5 ways integrating Salesforce with the platform can save you time and money:
1. Sync LinkedIn activity with Salesforce
For an effective LinkedIn sales strategy, your CRM needs to be a central source of truth. That's impossible when all your activity and stats are locked away on another platform.
How do you know who you've already contacted, who's accepted a message request, or who you need to reply to? If you're working directly from your CRM each day, you're in the dark without an integration.
Unless you're a Sales Navigator Advanced Plus user, you can't access Salesforce LinkedIn integrations natively. However, using Salesflow's LinkedIn automation software, you can automatically connect the two tools and get CRM updates every time you add, remove, connect with, or receive a reply from a prospect.
This is great for combined multichannel cadences across email, phone, and LinkedIn. It also enables you to track crucial metrics such as connection success rate right from within your customer relationship management system.
2. Send automatic message requests to new Salesforce contacts
The Salesflow LinkedIn Salesforce integration also works the other way around. By using a pull integration, you can set up workflows that automatically add any new Salesforce contacts to new connection campaigns.
This allows you to save time warming up interested prospects, and you don't have to worry about overlooking a lead again.
Plus, using Salesflow's automated outreach cadences, you can design and queue up message templates and A/B test your copy for the best results.
3. Get notified in your CRM when a prospect connects
Once you've sent your connection requests to your LinkedIn leads, you can sit back and relax: our native CRM integrations will alert you when a prospect connects right from within your CRM platform.
That means your CRM will always have accurate information on who you're connected with on the platform. Using CRM filters, you can sort leads into lists and create different CRM nurture campaigns for those that have responded.
If you're not using automated outreach cadences, knowing when a prospect accepts a connection invite is doubly important: you'll want to schedule a follow-up with more information as soon as possible. Ideally, you should do this within a day to make the most of your warm lead.
4.Get notified in your CRM when a prospect replies
What's more important than knowing a lead has accepted a connection request? Knowing they've replied, of course. When time is of the essence, our LinkedIn Salesforce integration will let you know a prospect has replied to your cadence. So even if you're not in your Salesflow dashboard, you can get back to them in no time for the best chances of conversion.
Companies that reply to prospect inquiries within an hour are 7x more likely to have a meaningful conversation with a key decision maker, so this time-saving technique isn't one to overlook.
And if you want to up your reply game even further? Consider working from the Salesflow account dashboard, where you can access our AI-driven lead management inbox and reply to interested prospects faster.
5. Log connection request withdrawals and campaign removals
Finally, as you scale your outreach, it's imperative to keep a list of who you've contacted that hasn't replied, as well as those that have successfully converted. You'll need to ensure no one in your company is contacting anyone who's asked to be removed from your campaigns, and you'll want a list of 'not this times' that you can continue to nurture 3+ months down the line.
All of this is easy with Salesflow's native CRM integrations: simple-to-create workflows allow you to track when a connection request has been automatically withdrawn or when a prospect has been removed from a campaign. Tracking where you're falling short, as well as who's biting, allows you to iterate to reach your goals.
How to integrate Salesforce and LinkedIn using Salesflow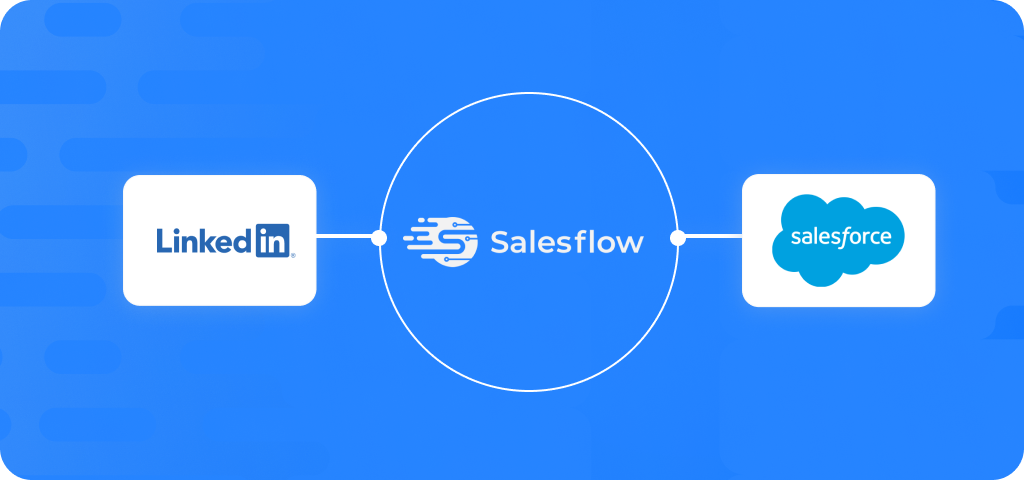 Now that you know just how integrating the two platforms can benefit your outreach activities, how do you do it?
Using Salesflow, it's simple to connect your CRM with LinkedIn and automatically log your interactions. Here are the 10 easy steps:
Create or log into your Salesflow account.
Go to 'native integrations' and select 'add new integration'.
Add an integration name and select 'Salesforce' as the platform.
Connect your Salesforce and LinkedIn accounts.
Choose whether you want to push or pull data between LinkedIn and Salesforce.
If you're pushing data from LinkedIn to your CRM, you'll be able to choose from the following triggers:

When a campaign member accepts a connection request
When a connection request has been automatically withdrawn from a campaign member
When a campaign member replies
When a prospect is added to a campaign
When a prospect is removed from a campaign

If you're pulling data from your CRM to LinkedIn, you can add existing CRM contacts into automated outreach cadences.
Choose which campaigns the integration should be applied to. Or, select 'attach all' for an account-wide integration.
Make sure the correct fields are added to your CRM by mapping your data values.
Confirm your integration setup, and you're ready to push and pull data to and from LinkedIn and Salesforce.
Integrating LinkedIn with other CRMs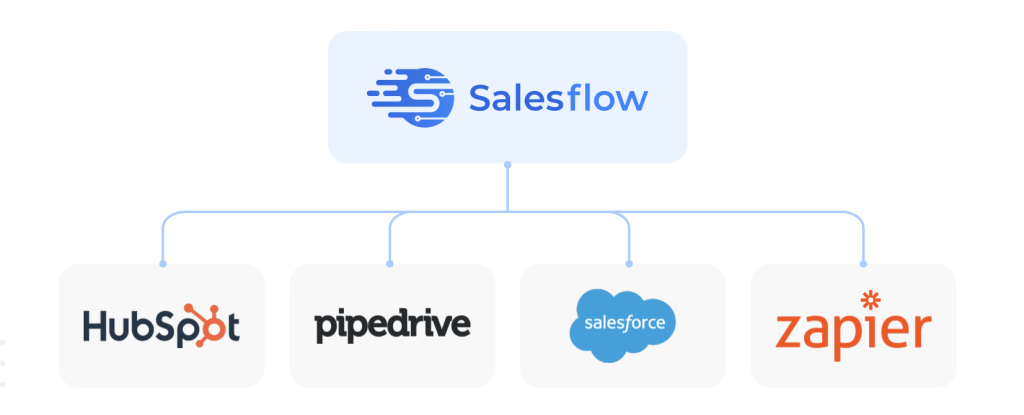 If you're not using Salesforce, don't worry. Salesflow has native integrations with Hubspot and Pipedrive, too. We even have a whole guide on integrating LinkedIn and Hubspot.
Not using Hubspot or Pipedrive? Consider using two-way Zapier integrations to sync your CRM and LinkedIn data. You can set up Zapier integrations from right within your Salesflow dashboard: see our support guide to learn how.
Integrate Salesforce with LinkedIn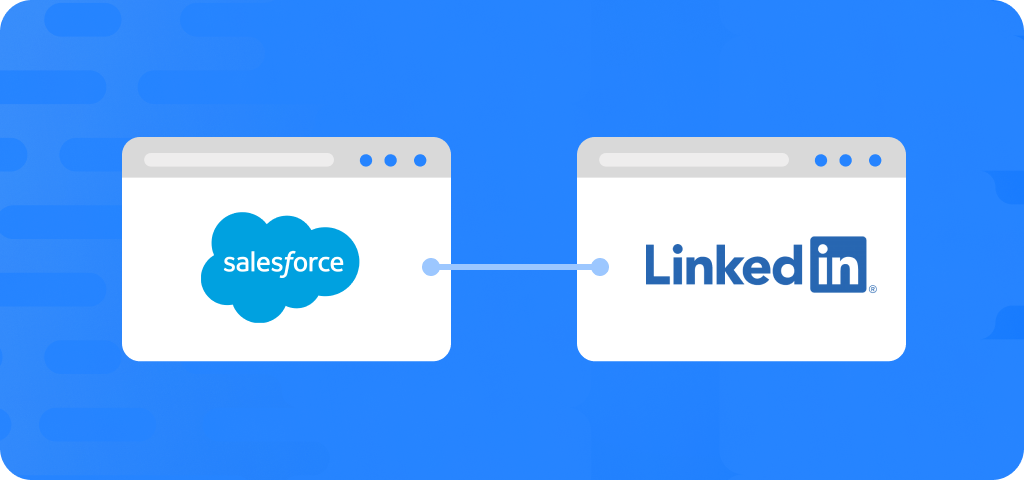 To integrate Salesforce with Linkedin, create a central source of truth and improve your prospecting workflows, try Salesflow today: