There are plenty of different types of LinkedIn automation software out there, and it can be confusing to work out what's right for your business. To help, we've put together this guide to the different types, including how each works, where it's best used, and the new features driving LinkedIn automation software forward.
What is LinkedIn automation software?
As a term, LinkedIn automation software covers a lot of ground. Essentially, it includes anything that makes use of LinkedIn automation – processes that don't require manual input to create results for end users.
There are a couple of different types, including:
Outreach automation, like Salesflow's LinkedIn automation tool.
Data scraping tools, which allow users to pull information from LinkedIn profiles into exported lists.
How can you use LinkedIn automation?
There are solutions that focus on social selling and building a personal brand, like Taplio. Then there are tools that export profile data, like Apify's LinkedIn scraper. But, most of the time, when you hear the term LinkedIn automation software, it refers to automation tools for LinkedIn lead generation.
These are tools that help users create leads and prospects from the social selling platform's 930 million members.
Some of the things that can be automated on LinkedIn include:
Sending message requests
Sending follow-up messages
Sending LinkedIn InMails
Messaging shared group members
Messaging event attendees
The right LinkedIn automation software can also help you:
A/B test messaging
Report results
Organize your inbox
Scale your outreach
Get specific and personalized with segmented cadences and imported Sales Nav lead lists.
Why use LinkedIn automation software?
The main reason to use automation software on LinkedIn comes down to time and money saved. Automation tools increase efficiency and reach, and this has a tangible impact on prospecting results. For example, companies using a LinkedIn automation tool like Salesflow have reported up to 20x ROI from adopting automation alongside their lead gen.
There are plenty of other reasons to consider automation across your LinkedIn activities. Here are just a few:
Increase consistency. There's only so much you can do manually – especially if your team is on the smaller side or busy following up with existing leads. LinkedIn automation software can improve the consistency of your social selling and outreach. Simply schedule it when you have the time and let activities run in the background.
Advance your tech stack. With all the exciting advances happening in B2B tech, there's never been a better time to try new tools and optimize your processes. Adopting LinkedIn automation software now gives you time to get familiar with the tools available and learn the ins and outs of social posting and LinkedIn outreach cadences.
Multiply your gains. Trying out multiple types of LinkedIn automation software allows you to exponentially improve results. For example, combining commenting software that can improve your social selling with lead gen tools that help you reach more people ensures leads are more likely to convert when you do reach out.
Keep pace with competitors. 70% of organizations are at least piloting automation technologies to improve business performance. Right now it's a competitive advantage, but soon it'll be a requirement to keep pace with the market.
See the difference automation makes in our Redpoint Global case study.
What different LinkedIn automation software is out there?
LinkedIn automation software for lead generation generally falls into one of three categories:
Data scrapers
These give you contact information as a downloadable CSV file, which is something LinkedIn doesn't natively support. However, they're often quite limited in their use cases.
To actually use this data, you need to upload it to another automation tool that can send sophisticated campaign cadences.
Plus, dedicated LinkedIn automation tools like Salesflow have import and export options built into the platform, as well as native CRM integrations. So often, there's no need for this software if you're using a sophisticated LinkedIn solution.
Dedicated LinkedIn automation software
These tools, like Salesflow, are designed from the bottom up to integrate with LinkedIn. They do one thing and they do it well.
Because they're so close to the ground, they're able to keep pace with LinkedIn updates, offer great levels of support, and anticipate market needs with new features like AI inbox filters and native CRM integrations.
Multi-channel automation solutions
Some tools offer LinkedIn outreach alongside other channels like email automation or even auto-dialing for cold calls.
While these often seem like perfect solutions, it's important to remember that LinkedIn is a complex social selling platform with lots of moving parts.
Many of these tools aren't optimized for LinkedIn specifically, because they have so many other tools to maintain and link with. They're unlikely to offer features like Groups and Events campaigns, or the ability to sort a Sales Nav list automatically for Open Profiles for Open InMails campaigns.
Since these features are necessary to make LinkedIn prospecting worthwhile in 2023 due to the platform's heavy limits on connection requests, one-size-fits-all prospecting software is often not the best choice.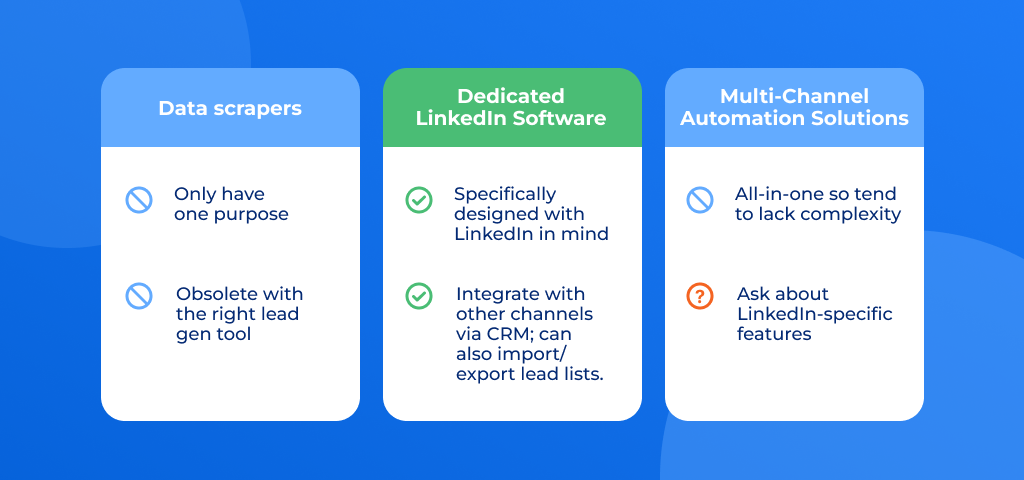 The myth of automation vs personalization
Some people hear automation and think robotic, rote, or obviously templated. The truth is, outbound results correlate with the effort you put in.
LinkedIn automation software gives you the tools to automatically send and scale outreach, which frees up a bit more of your time. Sure, you can use that to just go after as many people as possible. But the most successful people? They're the ones that use that extra time to put a little extra effort into their templates, segmentation, and personalization.
As a result, automation can actually improve consistency, make messages appear more personalized, and avoid embarrassing errors.
Ways automation software can improve outreach quality:
Send follow-up messages promptly
Personalize message templates for different lead segments
Personalization tokens ensure you always include the right name, company, and job title
Custom personalization tokens let you get even more specific with things like pain points, recent posts, or method of introduction
Detailed campaign statistics show you what works and what doesn't, so you can do more of what gets results.
How to evaluate automation options
Just dipping your toe into LinkedIn automation software, or looking to evaluate your current LinkedIn tech stack? Here are some things to bear in mind when choosing a solution.
Are you focused more on marketing, or lead generation? Most LinkedIn automation software helps with both to some extent. However, if you're a marketer, you probably want to check out some of the recent social posting developments over pure outbound cadences. Similarly, sales professionals will need the ability to set cadences and test messaging!
What's your overall lead gen strategy like? Do you know your ICP, or do you need a tool with advanced analytics to help you analyze the data and hone your value proposition over time? Similarly, are you confident in creating messaging, or do you need a solution with built-in AI-messaging support and hundreds of LinkedIn templates for you to get started with?
Are you looking for quick results or a long-term partner? All software should give you an immediate boost. But for the best results, look for providers with some skin in the game and a commitment to long-term partnerships. They'll help you use automation safely and get results while protecting your professional brand.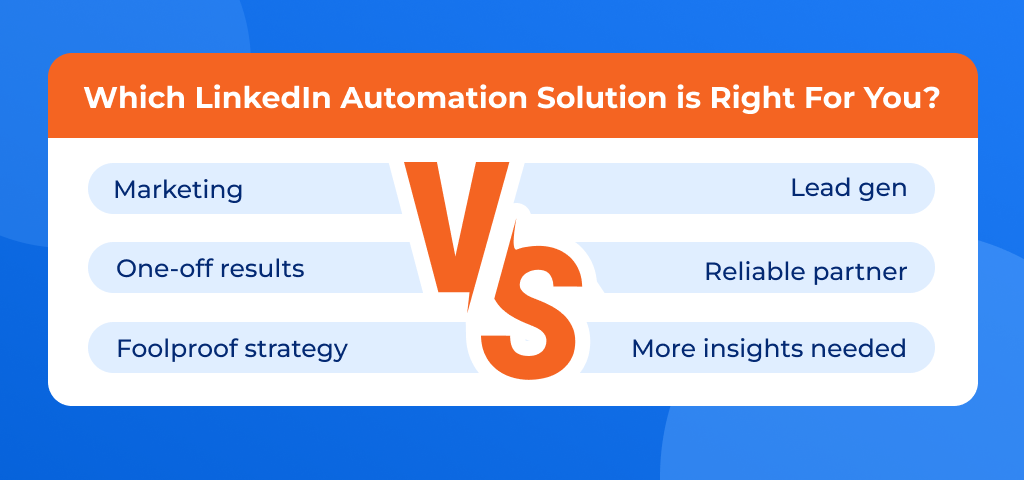 Where next?
LinkedIn automation software is entering an exciting period. With the release of tools like ChatGPT, on-the-pulse companies are developing software to make use of AI and generative technology – like Salesflow's AI copy generator.
Other areas where automation software is rapidly developing include:
Integrations are getting more sophisticated
Zapier integrations that connect lead gen tools are now standard. Now, the spotlight is on native integrations that can improve the ease of data mobility across user systems.
The addition of native integrations introduces new use cases, such as the ability to auto-enroll new inbound prospects in connection request cadences right from the CRM.
Inbox management is now a thing
Let's face it, one of the worst parts of LinkedIn is the unwieldy inbox that makes follow-ups all but impossible to keep track of.
Automation software can take care of those follow-ups and remove the guesswork from cadence completion. But AI inbox management can take that one step further and give you a cleaner, simple inbox right from within your LinkedIn automation tool.
Filter for new and unread responses, and use AI to automatically detect whether replies are positive or negative.
Campaign insights are getting more advanced
Accurate reporting can be the difference between campaign failure and success. That's why the most sophisticated LinkedIn automation software now offers live insights as campaigns progress, team management features, and more segmentation of results.
Salesflow breaks down cadence response rates by 1st, 2nd, and 3rd follow-up, as well as flagging the percentage of positive and negative replies by outreach type (InMail, connection request, or follow-up).
Use advanced analytics to hone your ICP and reduce the amount of time you spend collating custom reports.
Salesflow: the LinkedIn automation software of the future
Salesflow is part of a new generation of LinkedIn automation software designed to help you prospect with speed, scale, and consistency. Founded in 2017, we've been around long enough to know our stuff. Plus, our commitment to innovation means we're able to offer LinkedIn automation that continually delivers and keeps our customers coming back for more.
We're battle-tested veterans with decades of LinkedIn automation knowledge between us. Check out our software for yourself with a 7-day free trial.